What is CoolSculpting?
The unique CoolSculpting® fat-freezing technology is a nonsurgical, scientifically proven way to reduce pockets of fat in trouble spots such as the abdomen, flanks, or under the chin in as little as one session.
Key Benefits:
CoolSculpting is an excellent choice for clients who are looking for permanent fat loss without the invasive nature or expense of liposuction. The benefits of CoolSculpting include:
Clinically proven fat loss
Zero downtime and recovery
Easy, painless procedures
Noticeable results within 8 to 12 weeks
Ability to treat multiple areas, including stomach, thighs, flanks, upper arms, chin, and more!
CoolSculpting is ideal for candidates who are within 15 to 20 pounds of their ideal weight. While CoolSculpting permanently destroys fat cells, it cannot prevent the formation of new ones. Therefore, clients will need to commit to healthy habits to maintain their results.
What areas can we treat with CoolSculpting?
Abdomen
Thighs
Arms
Love Handles and Flanks
Back Bulge and Bra Area
Under Buttocks (Banana Roll)
Double Chin Under the Neck
How does CoolSculpting work?
CoolSculpting® technology targets fat cells beneath the skin, and cools them to temperatures that trigger their natural death. Over time, the treated fat cells shrink and are naturally metabolized and eliminated by your body, leaving a more sculpted figure. With CoolSculpting®, once the treated fat cells are gone, they're gone for good.
How fat cells are frozen?
Despite diet and exercise, fat cells accumulate in the body and can be very tough to get rid of. CoolSculpting® technology uses controlled cooling (Cryolipolysis) to target, freeze, and kill only these fat cells.
In the weeks to follow, these fat cells are naturally eliminated from the body.
Before and After: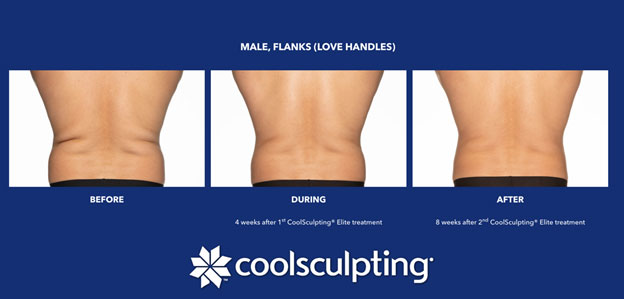 FREQUENTLY ASKED QUESTIONS
What is CoolSculpting?
CoolSculpting is a noninvasive body contouring treatment that reduces areas of stubborn fat and with little to no downtime. CoolSculpting is FDA-cleared for the treatment of visible fat bulges in the submental (under the chin) and submandibular (under the jawline) areas, thigh, abdomen, and flank, along with bra fat, back fat, underneath the buttocks (also known as banana roll), and upper arm. It is also FDA-cleared to affect the appearance of lax tissue with submental area treatments. CoolSculpting is not a treatment for weight loss.
Does CoolSculpting work?
Yes, CoolSculpting is clinically proven and effective at reducing unwanted fat. It can reduce the treated fat area by up to 20 to 25%. Based on a recent clinical study, 9 out of 10 patients were satisfied with their treatment, and 9 out of 10 patients would recommend CoolSculpting to a friend or family member.
How does CoolSculpting work?
CoolSculpting delivers controlled cooling to the treated area. Did you know that fat cells are more sensitive to cold? After treatment, the dead fat cells are removed through a natural biological process. Though this process begins within days after your treatment, it can take up to 3-6 months for all the treated fat cells to die and then be cleared away from the treated area. Those fat cells, once eliminated, are gone for good.
Is CoolSculpting safe?
When used as directed, CoolSculpting® is a safe and effective treatment. There are over 100 peer-reviewed articles on the safety and efficacy of CoolSculpting. In addition, based on a recent clinical study, 9 out of 10 patients were satisfied with their treatment, and 9 out of 10 patients would recommend CoolSculpting to a friend or family member. There have been over 11 million CoolSculpting treatments performed worldwide.
Who is CoolSculpting for?
CoolSculpting is an option for patients 18 years or older who have stubborn fat bulges in FDA-cleared locations that have not responded to diet and exercise and who do not have any reason not to be treated, including any treatment contraindications.
I have a medical condition; am I a good candidate for CoolSculpting?
While we cannot comment on your specific condition, we recommend that you consult with either your personal healthcare provider or have a consultation with a CoolSculpting provider. You can find a CoolSculpting provider by visiting CoolSculpting.com.
What type of body is CoolSculpting best suited for?
CoolSculpting may be appropriate for a diverse array of patients—women and men of various age ranges, backgrounds, and ethnicities. CoolSculpting candidates come in all shapes and sizes, who have "pinchable" stubborn fat that can fit into one of the many applicators. CoolSculpting can also be used on firmer fat areas, such as on the outer thigh with certain applicators. CoolSculpting is cleared to treat stubborn fat in patients with a BMI of up to 30.
On which areas of my body can I have CoolSculpting treatments?
CoolSculpting is FDA-cleared to reduce fat in 9 areas on the body. It can eliminate stubborn fat on the double chin or submentum and along the jawline in the submandibular area in patients with a BMI of up to 46.2. Other cleared areas include the upper arm, back fat, bra fat, the flank area, abdomen, on the thigh, and underneath the buttocks (also called banana roll).
How does CoolSculpting differ from other noninvasive fat reduction treatments?
CoolSculpting is the only noninvasive body contouring treatment that uses cryolipolysis. Other noninvasive body contouring treatments use heat or other energy-based technologies. Discuss your options with your provider to select the one that is right for you.
Does CoolSculpting hurt? Is it painful?
Everyone has their own sensitivity to discomfort. CoolSculpting uses light vacuum pressure to attach and hold the applicator to the treated area. The applicators administer therapeutic cooling which will feel very cold in the treated area and has been described as a burning cold sensation for up to 10 minutes before the area typically goes numb. After treatment is finished, the applicators are removed and the treated areas are massaged. Many patients tell us that the 2-minute massage following treatment is the most uncomfortable part of the treatment.
How long is CoolSculpting treatment?
Treatments last 35 minutes for the most part, but some applicators, such as the one used on the double-chin area or outer thigh, involve slightly longer treatment times. Each treatment will be followed by a 2-minute massage. For most patients, 2 or more visits are recommended to achieve the best results. In a clinical study, visits were 8 weeks apart.
What is a CoolSculpting treatment experience like?
After your private consultation, you will have clinical photos taken; these serve as a baseline to show the progressive changes to your body. The clinician will work with you to map out a customized treatment plan physically on the areas to be treated. Then sitting on a treatment chair, you will have CoolSculpting applicators attached to the areas being treated. First, a gel pad is put on to both protect the skin and ensure the applicator stays in place. The applicator uses a vacuum so you may notice sensations of pulling, tugging, mild pinching, cold, tingling, stinging, aching, and cramping at the treatment site. After the applicator is in place, the therapeutic cooling is started. You will notice intense cold at first but after the first 10 minutes or so, the area being treated typically will become numb. Most patients like to read, catch up on email, watch TV shows, or even take a nap during their treatments. Treatment sessions typically last between 35-45 minutes depending on the size of the applicator. After the treatment ends, the applicator and gel pad are removed, and the treated area is massaged for 2 minutes to help break up the fat cells. The massage is often the most uncomfortable part of the treatment as the treated area is both firm and very cold.
Once all your treatments in that session are done, you will get dressed and get back to your busy day. You can return to work, go to the gym, or do anything you would normally do. There are no restrictions on your activities, diet, sun exposure, etc. Over the following weeks and months, your body will do all the work internally as your treated fat cells die off and are removed by the body's own natural processes.
What is a personalized treatment plan?
A personalized treatment plan is your provider's recommendation, based on your consultation and assessment of how many CoolSculpting treatments and treatment sessions you'll likely need to see your desired results. For example, if you wanted to see an overall slimming and contouring of your midsection, your provider might recommend 4 treatments on your abdomen and 4 treatments on your sides or flanks.
What is the difference between CoolSculpting and Liposuction?
CoolSculpting is a noninvasive fat reduction treatment that uses cryolipolysis to freeze away stubborn fat. CoolSculpting typically has little to no downtime, meaning you can resume your normal activities right away. CoolSculpting results are seen 1-3 months after treatment. Liposuction is an invasive surgical procedure that requires anesthesia and once any post-surgical swelling resolves, results are seen soon after treatment.
How much can I expect to pay?
This can vary based on your treatment plan, goals, and the geographic area in which you live. For example, many providers charge approximately $3,100 or so for a package of 8 CoolSculpting treatments. Many patients may need 2 or more treatment sessions in the desired area, so that will also factor into your personalized treatment plan and total cost.
Why can't (a practice) quote a price over the phone?
Our consultations and assessments involve visually and physically evaluating your treatment areas and determining the number of treatments needed to help achieve your desired results. This physical evaluation cannot be done over the phone.
How many CoolSculpting treatments will I need?
While that depends on your unique needs, many patients need two sessions of treatments in an area to achieve their desired results and some patients need more than 2 sessions per area.
What is the difference between a CoolSculpting treatment, session, or visit?
A session is the same as a visit or appointment. A treatment is each time a CoolSculpting applicator is applied to your body. Your treatment plan can include multiple treatments within the same session and can include a follow-up session with a second round of treatments approximately 2 months after your first session.
Why is the second session done months after the first session?
The delay is to allow your body time to process and eliminate the treated fat cells from your first session. Waiting 8 weeks or more also helps us determine where best to place the applicators during your follow-up session as your treated areas' contours will have changed.
After Treatment
Do I need to do anything special after my treatment to ensure I have good results?
Just continue your normal healthy lifestyle activities, such as your regular forms of exercise and continuing to follow your normal diet, while your body goes to work triggering the affected fat cells to die off and be cleared away from the treated areas by your body's own natural processes.
What happens to the treated fat cells? Where do they go?
A few days after treatment, the affected fat cells begin to die off. Your body sends a type of white blood cell called macrophages to clear away the dead fat cells. The lipids in the dead fat cells end up in your liver, while the other dead cellular tissue ends up being excreted through your urine. It can take up to 3-6 months for all the treated fat cells to die off and then be cleared away from the treated area. Those fat cells, once eliminated from the treated area, are gone for good.
When can I expect to see results?
Some patients start to see results after 1 month, with more dramatic results seen at 3 months.
Will I see the results after my first session?
Many patients do start to see results after their first session, but more dramatic results are often seen after the second treatment session. Just like with exercise, you don't always see or feel results after one day of exercise but after multiple exercise sessions. It's important to complete all your recommended treatments to see your desired results.
How much weight can I expect to lose?
CoolSculpting is NOT a weight loss procedure. It is a noninvasive fat reduction treatment that has little to no downtime. However, you are encouraged to maintain your normal diet and exercise habits as gaining weight could impact your results.
Can a person gain weight after having CoolSculpting done?
CoolSculpting helps eliminate stubborn pockets of fat in the treated area. But since CoolSculpting is not a weight loss treatment, it is possible to gain weight post-treatment if you do not maintain a healthy lifestyle. This kind of weight gain will most likely happen evenly throughout your body, not only in the treated areas.
Will there be any effect on my cholesterol?
No, there will not be a change to lipid levels in the blood.
How long should I wait after my first treatment session before I have the second treatment session?
We recommend waiting for at least 8 weeks before having a second treatment in the same area.
Side Effects and Downtime
What are some of the side effects?
Typical and common side effects include temporary redness, swelling, blanching, bruising, firmness, tingling, stinging, tenderness, cramping, aching, itching, or skin sensitivity, and a sensation of fullness in the back of the throat after submental or submandibular area treatment. Rare side effects may also occur. CoolSculpting® and CoolSculpting® Elite may cause a visible enlargement in the treated area, called Paradoxical Adipose Hyperplasia (PAH), which may develop 2 to 5 months after treatment and requires surgical intervention for correction.
Will I have any downtime after my session?
As CoolSculpting® is noninvasive, you should experience little to no downtime.
What can I expect after my CoolSculpting treatment?
You may experience some temporary common side effects such as swelling, bruising, and/or tenderness in the treated area. You will likely experience numbness in the treated area, which could last for a few weeks, but this too will dissipate over time.
How do you ensure patient satisfaction?
While the number of treatments it takes to see results will depend on the person and the area being treated, we work with each patient to create custom treatment plans to help them reach their body contouring goals. When a patient comes to BG, our staff takes the time to assess them holistically. We first identify their body contouring goals and then collaborate to determine what we can offer to help our patients achieve those goals, such as treatment using CoolSculpting®. Whenever we recommend CoolSculpting®, we are clear with our patients that it is not a once-and-done treatment and always recommend maintaining a balanced and healthy lifestyle paired with a regular fitness routine.
Is CoolSculpting® covered by insurance?
No, noninvasive fat reduction procedures are typically not covered by healthcare insurance.