What is PicoSure Pro?
PicoSure Pro is the new and upgraded version of PicoSure, which is known as the worldwide gold standard for pigment removal and skin rejuvenation. Beautiful Glow & BG Medical Aesthetics is the first Asian med-spa in the United States and the first med-spa in California to have it.
PicoSure Pro has been proven to offer even better, faster, and more remarkable results. It has several features that help alleviate the previous limitations of PicoSure. Among these features is the new adjustable fluence system, in which the energy being delivered for a given spot size can be adjusted based on the individual patient's skin.
PicoSure Pro is ideal for treating pigmentary conditions and overall skin revitalization. It also has the added capability of tattoo removal.
It is the world's 1st 755nm picosecond laser. Its delivery is so quick that it spares the skin from high thermal damage while optimally targeting unwanted pigment, wrinkles, acne scars and pores with less downtime than traditional lasers.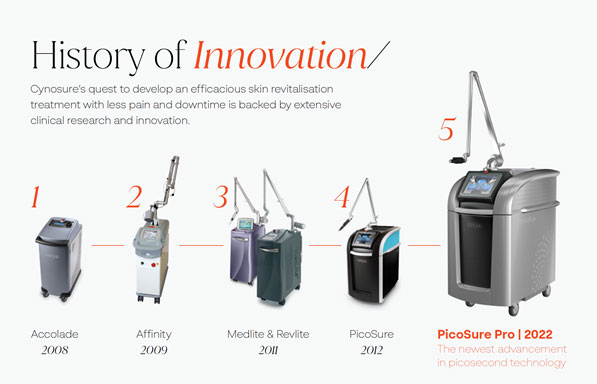 PicoSure Pro Benefits:
Treats various forms of benign pigmented lesions including sunspots, melasma, nevus of Ota, Hori's nevus and post-inflammatory hyperpigmentation
Improves fine lines and wrinkles
Reduces acne scars and pore sizes
Stimulates collagen and elastin production
Remove tattoos*
Improves overall skin tone and texture, providing patients with lighter, brighter, and more radiant complexion.
PicoSure Pro was delivered successfully at Beautiful Glow & BG Medical Aesthetics
The PicoSure Pro laser makes tattoo removal even easier. The 755nm wavelength can target black, blue, and green tattoo inks, while the optional 532nm wavelength offers effective treatment of "sunset colors"—red, yellow and orange—which are typically hard to correct. You'll also be able to:
Tailor treatments using variable spot sizes
Use turbo mode to better treat recalcitrant tattoos with shortened pulse width
Treat black ink in darker skin type patients using the 1064nm delivery
PicoSure Pro: All-in-one skin revitalization
Natural aging and environmental stressors eventually lead to degenerated skin that has excess melanin accumulation in the epidermis and/or dermis, low activity of epidermal cellular turnover, and decreased collagen and elastin levels. Therefore, in order to successfully revitalize the skin and reverse some of the visible signs of aging, we must:
Target and break up excess melanin to ease its removal
Expedite epidermal cellular turnover
Induce collagen and elastin production and remodel the dermal extracellular matrix
The great news is that PicoSure Pro technology tackles all these issues at the same time within the same procedure; hence, it is an all-in-one skin revitalization.
Before & After: